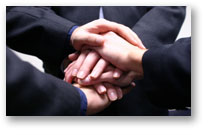 McCafferty McCabe and Associates is conveniently located on the East Coast of the United States, in Richboro, Pennsylvania, a suburb of Philadelphia. We started our business in 1996 as part of Management Recruiters International (MRINetwork), where we were recognized as one of their top producing offices for several years. In recent years our firm has taken on a broader range of roles along with global searches, and to better reflect this progression we've evolved from MRI/ Sales Consultants to McCafferty McCabe & Associates.
We continue to dedicate our resources and contacts within the Financial Services Technology and Security Technology business sectors, with emphasis on Sr. Sales, Product Management, Marketing, Professional Services and Subject Matter Experts and Sales Engineering positions. Our services are either contingency or retained by our clients and as always, the fees are never the responsibility of the candidate.
We are dedicated to building a close partnership with our clients to insure they attract the best and the brightest the industry has to offer. We have mastered the process and have 20 years experience of a field-tested, streamlined recruitment methodology, created to deliver effective and optimum results for clients and candidates. It is the ideal sequence of steps designed to yield a high-touch recruitment process, combining each step with a specialized set of behavioral skills to ensure the process is executed to its full potential how and when you need it.
We provide real global search solutions to a wide range of clients in need of attracting and retaining top industry professionals for highly visible positions within their organizations.

Trust your organization's future to a global partner whose growth is tied to yours.